M10 X 130mm Hex Head Thunderbolt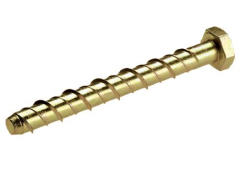 The one and only Thunderbolt is the original self-tapping anchor with the power to be used on a whole range of construction materials including concrete, brick and stone. It is a one-piece, non-expansion anchor, meaning that it does not require a wall plug or resin, and therefore makes it ideal for close to edge fixing applications. The threaded anchor and self-tapping action allow for safe anchorage, with the substrate becoming the nut to the bolt.
- Hexagon head.
- Zinc & Yellow (ZY) finish offers resistance to corrosion.
| | |
| --- | --- |
| Part No. | THUNDERBOLTHEX10130 |
| Price | £96.89 (inc VAT) per Hund |
| Availability | 6 In Stock |
There are no downloads for this product.