Superfast Plus Superglue 20ml small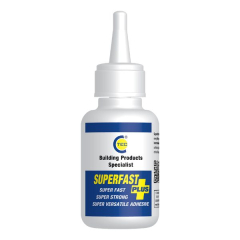 CT1 Superfast Plus Super glue 20ml
The Strongest Super Glue Available on the market



· SUPERFAST PLUS is an Adhesive which bonds in seconds
· and has a special formula based on Cyanacrylate.
· SUPERFAST PLUS is a one component adhesive which does not contain
· solvent and consists mainly of Athyl Cyanacrylate Monomer.
· SUPERFAST PLUS is temperature resistant in the range
· from 30°C up to 100°C.
· SUPERFAST PLUS is resistant to solvents, oils, benzene,
· temperature fluctuations and atmospheric conditions.
· No heating – No soldering – No mixing.
· Very high tensile strength.
· Bonds in seconds.
· Colourless.

APPLICATIONS

SUPERFAST PLUS provides an exceptionally strong bond between almost all kinds of
materials, with the exception of polyethylene, polypropylene and fluorine
Some of the Materials which can be bonded are:
ABS, aluminium, bakelite, bronze, buthyl, celluloid, choroprene, chrome, delrin,
glass, copper, natural rubber, NBR, neoprene, nitril,nylon, phenol, polycarbonate,
polystyrene, porcelain, hard PVC, stainless steel, steel.
For porous materials, use with SUPERFAST PLUS Activator.
Superglues as they are commonly known have been around for decades.
Superglues chemical make-up is cyanacrylate a derivative of acrylic resin
which makes an instant bond when in contactwith moisture.
Superglue is the choice for both industrial and domestic users for a multitude of tasks.
It's no accident that Superglue/Cyanacrylate bonds or fuses skin together.
Superglue/Cyanacrylate was developed by the medical industry many decades ago for that purpose.
The skin with many groves of different dimensions,
all holding pockets of microscopic portions of water a perfect condition for instant fusion.
Superglues over the years have become cheaper and cheaper
and the rational train of thought is bulk purchase,
mass production and general reduction in production costs of Superglue.
Sadly this is not the case for Cyanacrylate/Superglues.
Dilution is the real reason,
put 10 different brands of Superglues in a line and they may vary from £1 to £6,
easy solution just dilute the Superglue with solvents.
You can still achievea bond (very hit and miss) but for how long?
Then the solvent in the Superglue will etch and stain the base material.
C-Tec's Superfast Plus is a Super Superglue with no dilution of solvents whatsoever.
As a result Superfast Plus in our opinion,
that's echoed by anybody that has used Superfast Plus.
Superfast Plus is the strongest Superglue available on the market.
Superfast Plus will create a formidable bond on almost any material.
On materials such as plastics and metals it is advisable to clean the surface with C-Tec's Multisolve.
When you need Superglue to work every time think SuperFast Plus


| | |
| --- | --- |
| Part No. | CT1501903 |
| Price | £6.25 (inc VAT) Each |
| Availability | 3 In Stock |
There are no downloads for this product.