bahco 244-20-u7/8-hp handsaw 20in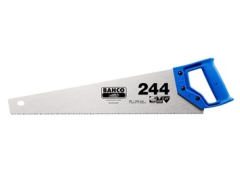 244 Hardpoint Handsaws
The Bahco 244 HardpointHandsaws feature a universal tooth set with high frequency hardened teeth giving up to five times the life of conventional teeth.
Particularly effective for cross cut and rip performance on chipboard, hardboard and hardwood. The plastic handle incorporates 45º and 90º marking guides and issecurely screwed to the blade.
---
Blade Length: 500mm (20 in)
Type: Universal hardpoint
7 tpi
Part No.
BAH24420
Price
£7.51 (inc VAT) Each
Normally £7.26
Availability
Out of Stock
No detailed specifications are available for this product.
There are no downloads for this product.