TLX GOLD 1.2m x 10m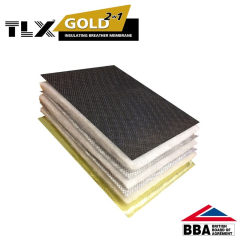 TLX Gold Multifoil Roofing Insulation - Thinsulex (1.2m x 10m Roll)
Additional Information
Description
TLX Gold is a 2 in 1 insulating breather membrane, venting moisture like a breather membrane, whilst insulating like non-breathable PIR board. The key benefit of the product is to improve the thermal performance of a roof without concern of condensation or having to adjust the height of the roof itself, re-roofing is made easy using TLX Gold.
TLX Gold is Sd intelligent, i.e. it responds to changes in the environment. When humidity increases, the vapour permeability ofthe product increases and similarly, when humidity goes down, the vapour permeability of TLX Gold goes down, hence condensation risk is eliminated, even with no vapour barrier.
The TLX Gold product is lightweight, quick and easy to fit, comes with European technical approval and is endorsed by LABC. The product has been fitted in over 15,000 roofs and in many cases, removal of existing insulation isn't necessary.
33mm thick - seven-layercomposite structure.
Features
Sd intelligent (the more moisture the more TLX Gold breathes).
Upgrades existing insulation.
Replaces roof underlay.
| | |
| --- | --- |
| Part No. | TLXGOLD |
| Price | £148.98 (inc VAT) Each |
| Availability | 15 In Stock |
There are no downloads for this product.