mirka hiolit x belt 100x610 p100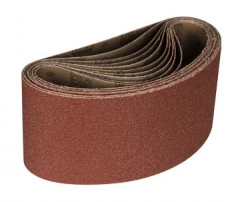 Whether you're a DIY person or a professional, Oxon Fastening Systems can supply you with the right product for your project. From Belts, Discs, Rolls and Sheets, take a look at the current stock available to buy onlinetoday.
If you can't see the right Belts online for your sanding or finishing please do get in touch as we are adding new stock from our full catalogue each month and may have the Belts you need in stock.
Need inspiration?
For more than three decades Mirka has been a leading manufacturer and supplier of abrasives to the automotive industry, automotive refinishing, composite manufacturers, the wood and furniture industries as well as the metal finishing industries, specialists in coated, non-woven and dust-free sanding products for surface finishing. The extensive product range caters for both individual operations and complete sanding systems. The unique Mirka concept of dust-free sanding, combined with the effective surface finishing solutions has replaced traditional sanding methods in many industries. The abrasive range is complemented with supplementary products and accessories, which enables Mirka to offer customers complete sanding solutions.
Mirka Hiolit X Sanding belts are strong and long-lasting with an excellent edge wear resistance, providing a high quality result on robust materials! These belts are available in many grits and sizes, they can even be made to your personal specification. Mirka Hiolit X Sanding Belts are recommended for belt sanding and other machine sanding.
For more information please feel free to contact us on 01865 884 022 or visit us in the shop in Oakfield Industrial Estate in Eynsham, Witney
Order your sanding belts online and take advantage of our free delivery on orders over £75*. Alternatively come and visit our shop in Eynsham, Witney for same day local pickup and delivery.
View all Sanding Belts currently in stock online
| | |
| --- | --- |
| Part No. | MIRKABELT100610P100 |
| Price | £16.26 (inc VAT) per Ten |
| Availability | 57 In Stock |
There are no downloads for this product.