Dirteeze Rough & Smooth Wipes 80 In Tub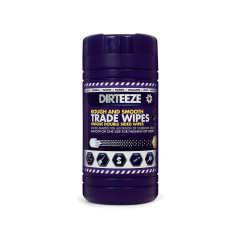 The Dirteeze rough and smooth heavy duty wipes are dual-sided with a smooth side for removing stubborn dirt and grime and a micro-beaded side for agotating grime without scratching surfaces.
Product Features
High strength for use on rough surfaces
Pre-moistened so no need for water
Contains aloe vera for keeping hands moisturised
These wipes are suitable for removing the following :
Dirt and grime
Adhesives
Oil and grease
Water-based paints
Inks
Expanding foam
Applications
Use on hands, tools, machinery and most surfaces
Ideal for mobile workers, automotive and construction trade and engineering
These wipes are also available in a flowwrap and a refill pouch and are tough on dirt and grease, softer and kinder to hands. These heavy-duty wipes have good absorbency to tackle liquid spills.
| | |
| --- | --- |
| Part No. | DIRTEEZEWIPESTUB |
| Price | £9.62 (inc VAT) per Tub |
| Availability | Out of Stock |
There are no downloads for this product.