Yellow Insulation Tape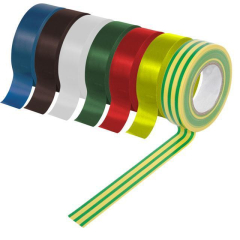 PVC Electrical Tape complying with BS3924:1978, EN60454 and IEC60454-3-1. This tape is flame retardant falling into the self extinguishing category, it is also compliant with RoHS. This PVC Tape has very good electrical properties, tough, flexible and with good conformability. It is used for various applications including wire and cable insulation, and colour coding of electrical cables.
| | |
| --- | --- |
| Part No. | INSULATIONTAPEYELLOW |
| Price | £1.85 (inc VAT) per Roll |
| Availability | Out of Stock |
There are no downloads for this product.